Naval & Maritime Architecture, Design & Analysis
Big M provides a dedicated skilled team with vast experience and best expertise for Naval and maritime architecture, design and analysis, Our team is committed towards providing professional service abiding to international safety standards on all your projects irrespective of the scale or scope to meet our client's technical and commercial needs.
Detailed production design
Offshore Designs & Analysis
Steel, Outfit & Piping works specializing in working on sailing ships with the help of 3D laser scanning. Software used:
Our team have proven expertise in STAAD, OrcaFlex and Ansys for our Ship & Offshore analysis projects.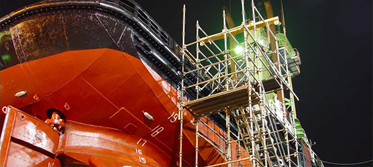 Other relevant Services : ( but not limited to )
2d & 3d Architectural Design and Visualisation Class Approval Retrofit/Repair/Modification Drawings
Approved Fabrication / Production / Detail Drawings3D scanning to Modelling Services Ballast Water Treatment Systems supply
BWTS Basic Engineering & Detail EngineeringBWTS Supervision, Installation & CommissioningRepair/Build Project management & Technical Consulting
Dry Docking Supervision
Singapore's Most Trusted Marine Service Support Partner 24/7
  Incorporated in Singapore, Big M Marine Pte Ltd provides marine, offshore and civil construction services and solutions that are efficient, cost-effective and high in quality and safety standards.